Still together against COVID-19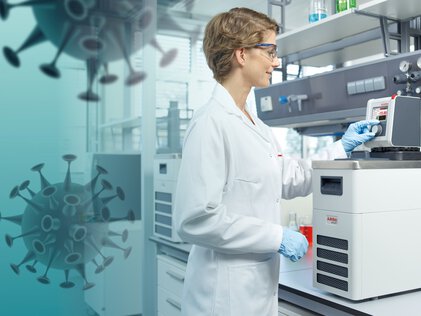 Dear Customers & Partners,
To mitigate the corona pandemic and its impact, since several months, scientists and researchers are working intensively to develop effective medications for acute patients with coronavirus SARS-CoV-2 as well as effective vaccines as a long-term weapon against COVID-19.
Precise temperature control is a critical parameter in almost all areas of this medical research. Therefore, in many laboratories and institutes around the world our high-precision temperature control systems are in permanent use.
JULABO is part of Germany's critical infrastructure. It has been and is our primary goal to ensure JULABO's ability to produce and deliver at all times to support the experts who are fighting the pandemic in every possible way. All our employees are working with great enthusiasm for this despite the difficult general conditions. Accordingly, we can continue to offer you the same services as we always have.
Our contacts in sales continue to be available as always per telephone or E-mail for consultations, sales and order processing. Some have already returned from home office to the headquarters in Seelbach.
Business trips for customer visits are again possible to a limited extent - of course, in compliance with all necessary hygiene and safety regulations.
Our technical service continues to support you per telephone or E-mail, and if required on-site, for questions or problems with your JULABO units.
For repairs and maintenance, as always you may send us your machines to our company.We are producing JULABO units at the same JULABO quality and shipping the units out. In the meantime, the supplier situation has also relaxed in many places or has continued to normalize.
We have many models in stock and can deliver them at short notice. Please feel free to contact our sales colleagues regarding questions and / or delivery times.
Despite the multitude of easing in many economic sectors, the Corona pandemic is not over yet. Rest assured that we continue to observe this dynamic situation critically, in order to be able to react accordingly if necessary. This will ensure that we will overcome this unusual situation together with the best outcome possible also in the upcoming weeks and months.
If you are one of the many customers who rely on our technology worldwide and need specific support, please do not hesitate to contact us immediately. According to our vision Superior Temperature Technology for a better Life, we will do our utmost to help at short notice to improve the situation of all people sustainably.
Kind regards from Seelbach,
Your JULABO team