NEW: PRESTO W58x - JULABO's Most Powerful 1-Stage Highly Dynamic Temperature Control System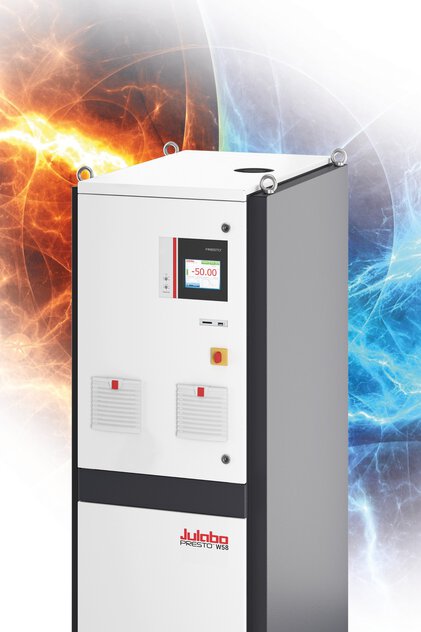 JULABO, a globally renowned manufacturer of premium temperature control solutions, is once again expanding the cooling performance of its PRESTO series with this new powerhouse.
"With the PRESTO W58x, we are offering a premium unit with even more power," emphasizes CMO and Director of Sales Mark Bitterwolf. "Especially in automotive testing, we thus enable our customers to carry out their temperature control processes even faster and more efficiently. The W58x leaves nothing to be desired in this regard," Bitterwolf continues.
The new flagship boasts an exceptionally high cooling capacity of 33 kW at 20°C, providing substantial power reserves throughout the entire working temperature range – particularly at temperatures around -30°C to -40°C when coupled with water-glycol mixtures.
The gear pump integrated into the PRESTO W58x also enables the use of media with higher viscosity. As the pump is magnetically coupled, it further allows for optimal adjustment of pump performance to the specific application, even across greater distances and elevations.
The new PRESTO can be expanded by JULABO's Business Unit Solutions through custom modifications, depending on requirements. 
For instance, the W58x, thanks to a technical innovation, offers pressure-overlaid temperature control with water-glycol up to a working temperature of +150°C when equipped with an attached extension kit. Furthermore, for applications requiring precisely defined volumetric flow rates of the utilized medium, the PRESTO W58x can be equipped with a specialized flow control system.