Together against COVID-19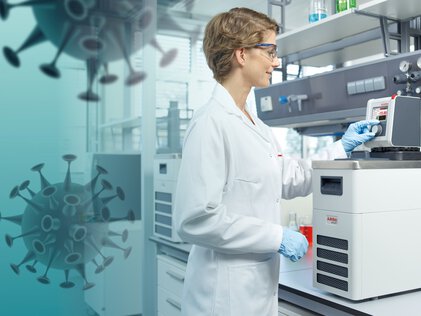 The corona pandemic poses unprecedented challenges for the global population. Scientists and researchers around the world are working intensively to develop effective medications and approaches to fight the disease COVID-19 caused by the coronavirus SARS-CoV-2.
Precise temperature control is a critical parameter in almost all areas of this medical research. "Some of our customers around the world are prioritizing work on new vaccines, drugs or therapeutic methods in the battle with COVID-19. We aim to support them in every possible way. We want to make our contribution in the fight against the virus and take social responsibility", says JULABO Managing Director Markus Juchheim. 
Subsequently we make the following concrete offer: Are you looking for a cooperation partner in the field of temperature control to advance newly developed technologies? Do you have any questions about special solutions in the field of temperature management? Do you need to increase your laboratory capacities at short notice? We are ready to help you quickly and flexibly with urgent inquiries and requirements. According to our vision >Superior Temperature Technology for a better Life<, we will do our utmost to contribute to the fight against the corona pandemic and to improve the situation of all people both in the short term and sustainably over time. Write us an e-mail. Give us a call.
Temperature control systems from JULABO such as water baths, circulators or recirculating coolers have been utilized for more than 50 years in laboratories and research facilities for precision and reliability for a wide variety of applications.
However, JULABO devices are not only used in medical research for new vaccines or medicines. Exact temperature control is also required in many other areas, for example in the product development of tests for the SARS-CoV-2 virus, the quality assurance of protective equipment such as FFP2 masks or for reactor temperature control during the later production of the vaccines in biotech or pharmaceutical companies.
Many JULABO products have been used for medical applications in laboratories, hospitals and clinics for decades. In addition to sample temperature control, incubation or temperature control of cultures, this also includes specialized applications such as the storage and preparation of blood plasma or the storage of chemicals.
"As a manufacturer of analysis and laboratory technology, we are part of Germany's critical infrastructure. It is our primary goal to ensure JULABO's ability to produce and deliver at all times. The experts who are fighting the pandemic need our technology and our support. We have to make sure that we can counter the pandemic quickly and efficiently", says Markus Juchheim.
With an export share of around 70%, countless companies globally use JULABO technology for research and development, also against COVID-19. Our branches are in constant contact with local customers. For example, for several weeks the JULABO China branch has been working closely with a company that develops infrared sensors. The aim is to manufacture contactless thermometers that are precisely calibrated as quickly as possible for simple temperature measurement among the population.
Let us know if we can support you and stay healthy!
Your JULABO team