JULABO on a strong growth path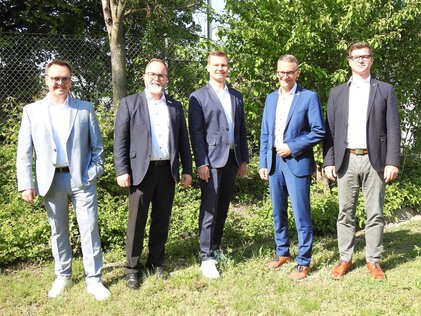 New production site planned at startkLahr Airport & Business Park in Lahr
Temperature control specialist JULABO has been growing steadily for years and intends to continue this trend in the future. Unfortunately, there is almost no available production space at its headquarters in Seelbach, Germany. As such, the international, family-owned company is planning a second production site at the startkLahr Airport & Business Park Raum Lahr. 
JULABO's high-tech equipment is used in a wide range of industries around the world. These include future markets such as e-mobility, the chemical and pharmaceutical industry, or semiconductor manufacturing. "Global megatrends are fueling various industries in which our customers operate. Consequently, we are expecting increased demand for high-quality temperature control instruments in the future," says Markus Juchheim, Managing Director of JULABO, explaining the company's strategic perspective. "Our capacities in Seelbach are simply not sufficient for this larger volume over the medium-term and long-term. This is why we are setting up a second production site at the startkLahr location in Lahr."
To this end, JULABO is engaged in close, advanced talks with the association for the Industry and Business Park Raum Lahr concerning a large area in the direct vicinity of Zalando. "To select our second location, we think very long-term," explains Markus Juchheim. "This site offers enough space for current and future growth over 5, 10, or 20 years." The first construction phase, during which a building of around 5,000 square meters will be built, is planned to start in the first half of 2023. Chairman of the association Mayor Markus Ibert is pleased with the company's plans: "I am pleased that JULABO will have a space in the startkLahr area. With the construction of a second plant, this successful, global production company will have more opportunity to grow in the region. In recent years, with regard to marketing the startkLahr site, we have succeeded in establishing both a logistical focus as well as a significant attraction for production and service companies." In the opinion of association director Daniel Halter, JULABO GmbH moving into the area is another important milestone. JULABO employees from the Series Production and Logistics departments will be the first to start working at the startkLahr site in Lahr after the factory is completed and set up. Other production-related departments will follow little by little as required.
Newly freed space at the main site in Seelbach will be gradually modernized and used to expand product development. In addition, the company is further expanding its production area for individual customer solutions due to the increased demand for these on the market. The majority of JULABO's workforce will therefore continue to work at its headquarters in Schuttertal, which will be used more as a customer and development center in the future. Thomas Schäfer, Mayor of Seelbach, also comments positively on JULABO's development: "Although I am very sorry that we in Seelbach cannot provide JULABO with commercial space for its necessary expansion, I am in full support of the project. I am grateful that JULABO's headquarters will remain here with us and continue to play its very important role in the company's development in terms of administration, special construction, and innovation."
"Of course, the new location in Lahr is also of interest to us from an employer attractiveness perspective," explains CFO Ralf Wurth. Directly on the Autobahn A5, close to the border with France, and connected to local public transport, JULABO, an excellent company to work for, will provide new employees with jobs that are easy to get to and future-proof. "We hope that our second location will also enable us to attract many new and committed members to the JULABO family."
After completion of the planned new building, JULABO will be able to respond even better and faster to customer requirements, meeting them in the best possible way. On the one hand, the new site makes the family-owned company future-proof. On the other hand, it helps drive research and development on topics that are important for society worldwide in line with JULABO's vision of "Superior Temperature Technology for a Better Life".
Image: Setting the course together for JULABO's successful expansion with a new site at the startkLahr Airport & Business Park in Lahr: Ralf Wurth (Chief Financial Officer JULABO), Thomas Schäfer (Mayor of Seelbach), Markus Juchheim (Managing Director JULABO), Markus Ibert (Mayor of Lahr and Chairman of the Association), and Daniel Halter (Director of the Association), (from left to right, ©Karlheinz Fischer/startkLahr)