CORIO laboratory circulators
Circulators are an important part of daily work in many laboratories of research institutions and industrial companies worldwide. The JULABO CORIO circulators have been developed with pioneering technologies for these laboratories and are manufactured to the highest quality standards in Germany.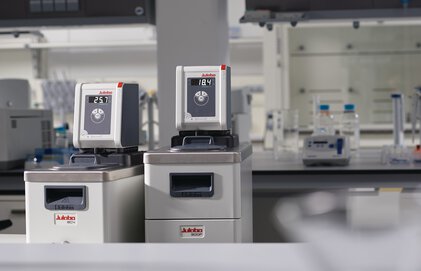 Best price-performance ratio
The CORIO series offers the best price-performance ratio in the basic range of circulator technology. Equipped with all essential core functions, the CORIO circulators are optimized for simple, daily routine work.
Clever operation
The simple and modern design of the CORIO circulators is designed for easy and time-saving operation and provides quick access to all relevant functions. A bright display means that data are always easy to read.
Internal and external temperature control
CORIO C and CD models are the perfect circulators for precise, internal standard temperature applications. Refrigerated circulators in the CORIO CP series expand the range of possible applications with a temperature range from -50 °C to +200 °C. Strong pump performance makes the CP models perfect for use in the simple temperature control of external applications.
Flexible all-rounder
Universal bath attachment clamps for custom containers, bath tanks in various sizes and designs as well as powerful cooling machines make the CORIO a flexible all-rounder in everyday laboratory work. With a wide selection of accessories, all CORIO devices can be adapted to customer-specific applications in a modular and individual way.